Capo D'Acqua Lake - Capestrano - AQ –
The Sporting Association Scuba Diving School ATLANTIDE took the artificial lake of Capo D'Acqua under its exclusive responsibility and control on May 05 2004.
With this signed resolution the Association Atlantide became the only authorized Association to arrange events and to release permission to enter the lake to any association, schools, diving centers who want to visit it.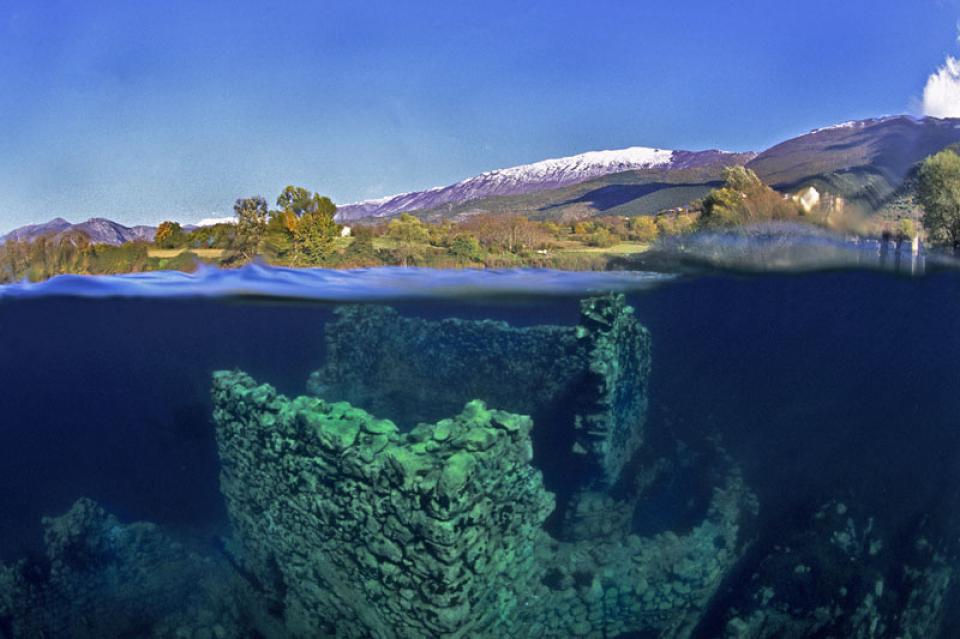 | | | |
| --- | --- | --- |
| | The lake, that is private-owned, is situated in the Parco Nazionale del Gran Sasso e Monti della Laga, in an unblemished landscape full of archaeological evidences (only to mention the Capestrano warrior). | |
The lake was done during the mid 50s to have a water supply nearby, in order to water the surrounding lands; today, after the blackout of 2006, it is also used for the production of electricity sold to ENEL (the Italian National Electricity Board), thanks to a pre-existing hydroelectric power plant to the power of the two pumps forcing water.
The Lake is supported by many superficial and underwater springs. In the past they used to support water flows that - joining together - created the river Tirino. During the Middle Age near these water flows two mills and a paint factory have been made. Nowadays the paint factory building can still be watched from the lake surface. Whereas the two mills are submerged, in a good condition, and they can be visited from any diver with any diving licence.
The lake offers, thanks to its being a spring lake, a great visibility (about 70 meters) and an unusual lake flora, distinctive of high spring waters (the lake is situated at 330 meters above sea level). As far as concerns fauna, the lake is full of fario trouts, severely threatened placing unfair, in 2005, three pike, which have scared even the avian fauna. Subsequent to their sighting was mandated by the City of Capestrano and the owners of the reservoir to drive the pike, some fishermen local. In 2007 he was the last pike was captured, weighed I implored about 12 kg and was about 110 cm long. Today we see eventually regrow the lake fauna, even if that AI is still suffering from the effect of pike (there used to be in the past a lot of lake crayfishes, now killed off by a too aggressive fishing).
Just because of its peculiarity the lake offers an underwater world amazing and puzzling, full of many submerged trees, houses, streets and structures.
It is not easy to imagine the charm and the dreamy appeal these diving can create.